Top Ten

Published by Spartan Press, these are for technique, with currently three books in the series (book 4 is due to be released this year!). The books can be purchased here.
These have received rave reviews in both ESTA's ARCO magazine and the Strad magazine!
Each book contains 10 sets of 10 short exercises, covering a wide range of techniques on the violin, right from beginner level. A stick man adds to the fun, adopting various poses to illustrate the exercises, and there are pithy statements to help pupils remember the salient points. Some exercises have suggested challenges – metronome speeds to aim for, with sometimes a space to write in your 'personal best,' and there are catchy titles. The exercises are progressive, with most techniques repeated throughout the books, becoming increasingly more difficult or complex. The books can be used with and appeal to all ages, including adults!
They have also been praised for their uncluttered look – there is plenty of space for teachers to write comments – and the exercises are deliberately kept short and simple in notes so that the emphasis is on mastering the technique, not reading the notes. Since comments are very short too, there is plenty of scope for teachers to adapt the exercises if necessary, use them as a springboard for improvising, or to simply approach the technique in the way that they prefer.
Hey Presto!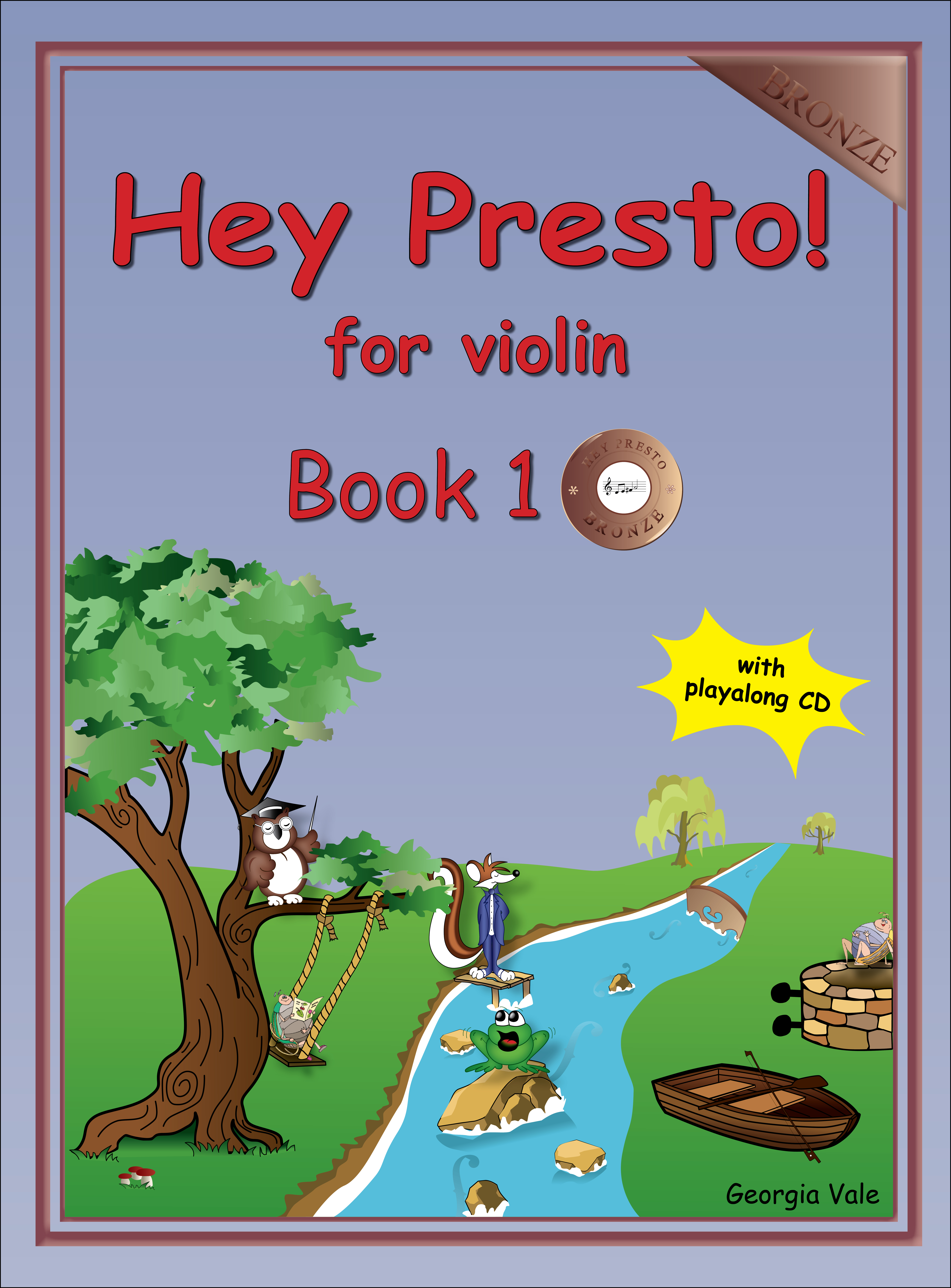 Launched in September 2010, this is my series of books and music for violinists and strings groups, which was featured in Music Teacher magazine!
To learn more, or purchase any of the books or pieces, visit Hey Presto Strings.
Hey Presto! for violin and Hey Presto! for viola:  A few years ago, when I began teaching again I couldn't find any violin tutor books that worked for me. There were visually appealing books with good quality compositions, but these lacked explanations, so those whose parents had no musical background struggled; and there were books full of good explanations but whose presentation I found to be crammed in or unappealing. So I started to create my own books the way I would have liked them as a child. Immediately, my pupils loved the colour and illustrations and were engaged by the characters and little details like the bow bugs. The short explanations and note charts gave them the confidence to work things out for themselves –  and best of all they began to be emotionally engaged by the music.
The CDs: A few years later, after making the difficult decision to self-publish these books, I was approached by a fellow musician and parent of one of my pupils, Paul Douglas, who asked if there was anything he could help me with. Since Paul has his own record label, DH Records, I asked him if he would consider producing the CDs for me. Paul agreed, and the end result was some wonderful CDs, with excellent sound quality as well as enjoyable sound effects and effective backing tracks where appropriate.
Hey Presto! Music theory for violinists, violists & cellists: When I started to use my own theory books I found my pupils also began to enjoy music theory. Once they realised that every subject would be broken down into basic steps, and returned to over and over again, they gained confidence with it, and would speed through as fast as I would allow to get to the fun pages nearer the back!
Hey Presto! Music for string groups: At the same time, I started my own string group, Chaddesley Junior Strings, and again struggled to find suitable music – I had players of very different standards within the same group (from Prep Test level up to Grade 4 at the start!) and didn't want the more advanced ones to be bored. So, again I wrote my own pieces, taking care to give every part something of interest and also making the pieces long enough and attractive enough to be used effectively in performances.
And so Hey Presto Strings was born!